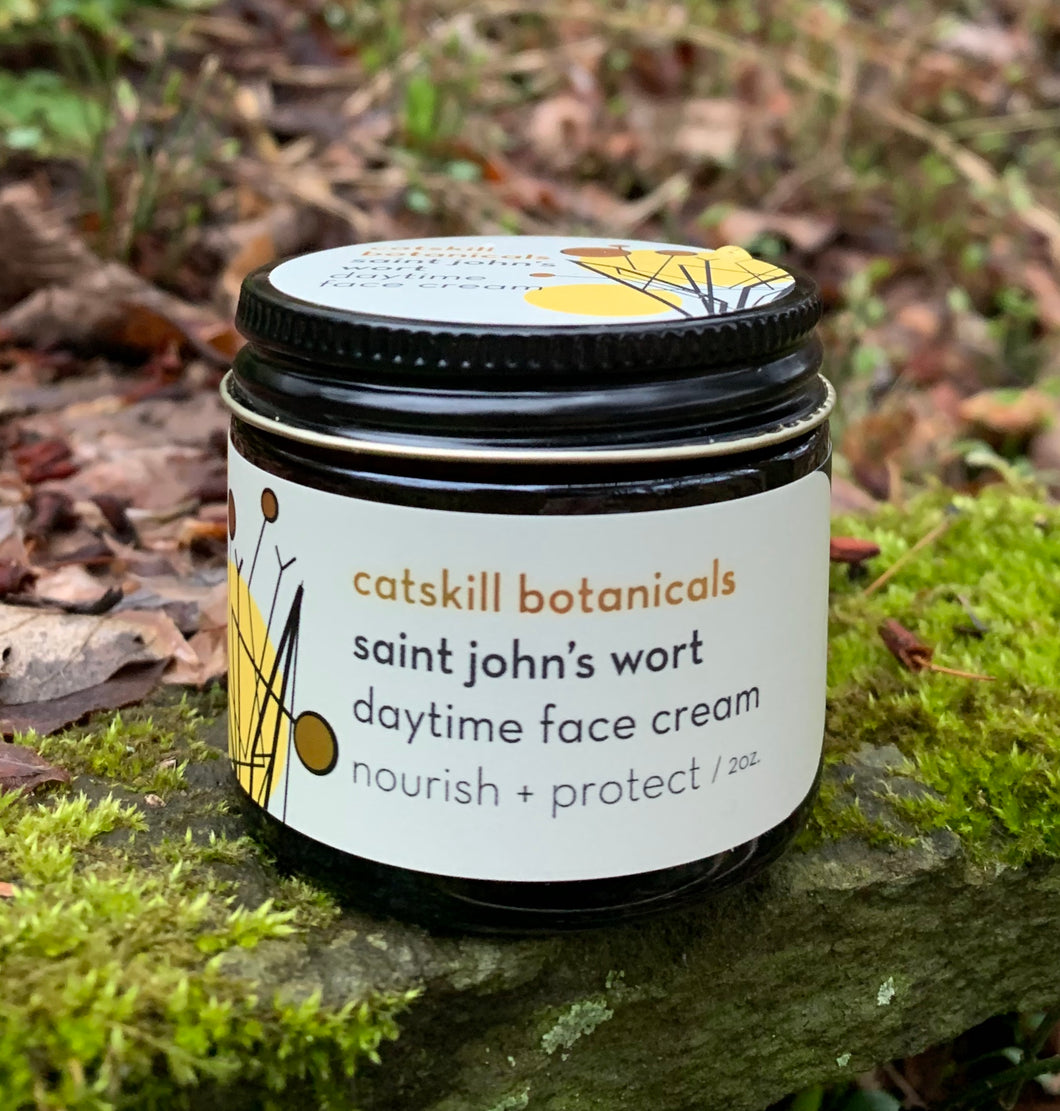 Saint John's Wort Daytime Face Cream
Regular price $45.00 Sale
This item qualifies for free shipping. 
Saint John's Wort Daytime Face Cream, 2 ounces
diminishes fine lines, wrinkles, age spots, and scars
relieves aches, pains, and nerves
soothes bruises, bites, and rashes
reduces redness
Ingredients: Saint John's Wort Buds, Olive Oil, Sweet Almond Oil, Coconut Oil, Aloe Vera Gel, Rose Water, Unrefined Shea Butter, Jojoba, Lanolin, Local Beeswax, Vitamin E, Celtic Sea Salt, Borax. Essential Oils Of, Lavender, Frankincense, Myrrh.
How to use: Gently massage small amount into skin. Prior to general use, test for sensitivity.
Saint johns wort buds are wild harvested in the Catskill Mountains. As the saint johns wort oil infuses in the sun, the beautiful yellow buds turn the oil bright red. The redness is indicative of hypericum which is excellent for nerve pain, and makes saint johns wort an excellent choice for relieving nerve pain, and for promoting a healthy inflammatory response. Saint johns wort, when used externally, will provide protection against the sun, as well as relieve sunburns. When used as a face cream, saint johns wort reduces redness, lightens age spots, tones the skin, and plumps fine lines. Use daily on face, neck, and body. Use to relieve cracked hands. A tiny bit is all that is needed.