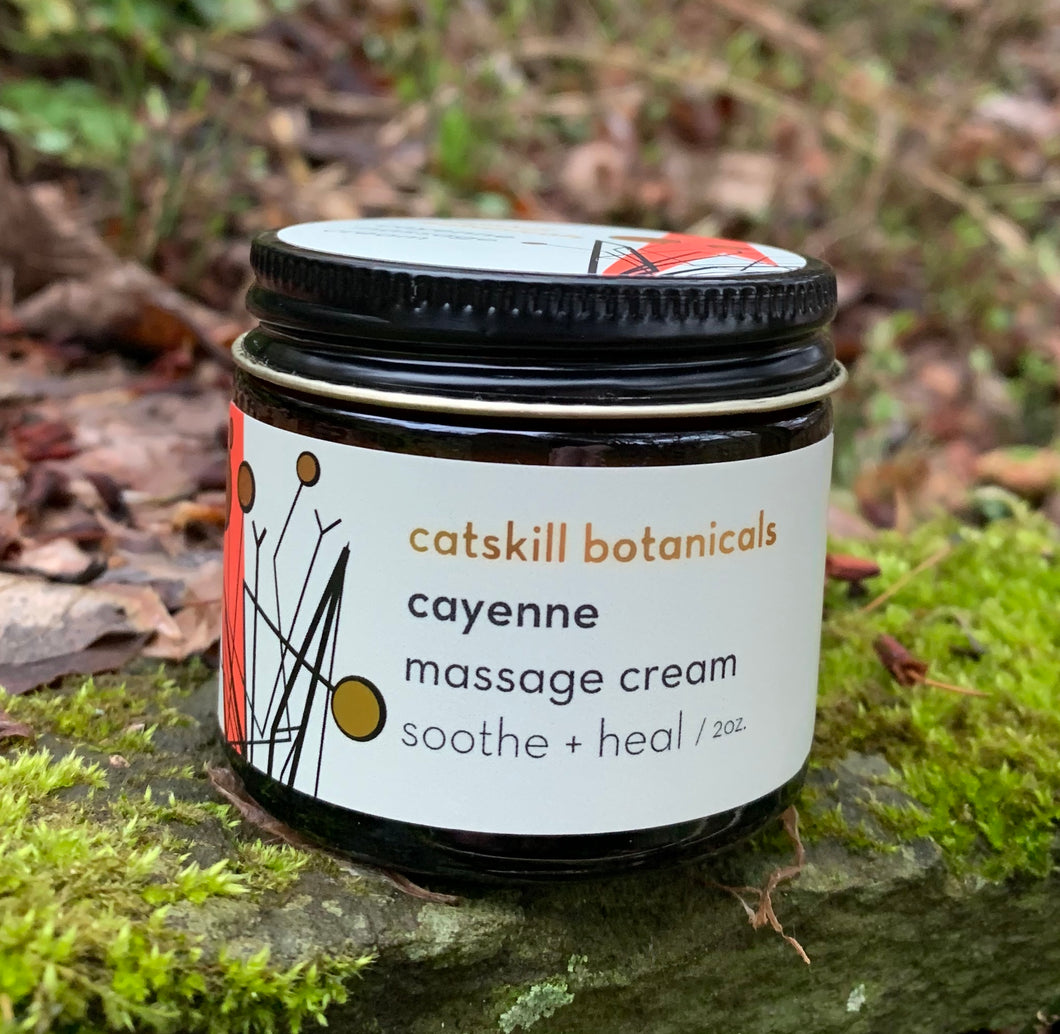 Cayenne Massage Cream
Regular price $45.00 Sale
 This item qualifies for free shipping. 
Cayenne Massage Cream, 2 ounces
relieves aches, pains, and nerves
soothes bruises, bites, and rashes
Ingredients: Saint John's Wort Buds, Olive Oil, Grape Seed Oil, Aloe Vera Gel, Coconut Oil, Unrefined Shea Butter, Jojoba, Lanolin, Local Beeswax, Vitamin E, Extracts of Saint John's Wort, Lemon Balm, Licorice, Frankincense, and Cayenne, Vegetable glycerin, Celtic Sea Salt, Borax. Essential Oils Of, Lavender, Rosemary, Lemon Balm.
How to use: Gently massage small amount into skin. Prior to general use, test for sensitivity.
WASH HANDS AFTER EVERY USE. NOT FOR FACE.
Saint johns wort buds are wild harvested in the Catskill Mountains. As the saint johns wort oil infuses in the sun, the beautiful yellow buds turn the oil bright red. The redness is indicative of hypericum which is excellent for nerve pain, and makes saint johns wort an excellent choice for relieving nerve pain, and for promoting a healthy inflammatory response. Our saint johns wort oil, and organic cayenne extract, along with other extracts and essential oils makes the perfect cream for relieving aches and pains and helping move fluid in the body. Good for poor circulation in feet and hands. Just make sure you wash your hands, and careful not to touch your eyes.