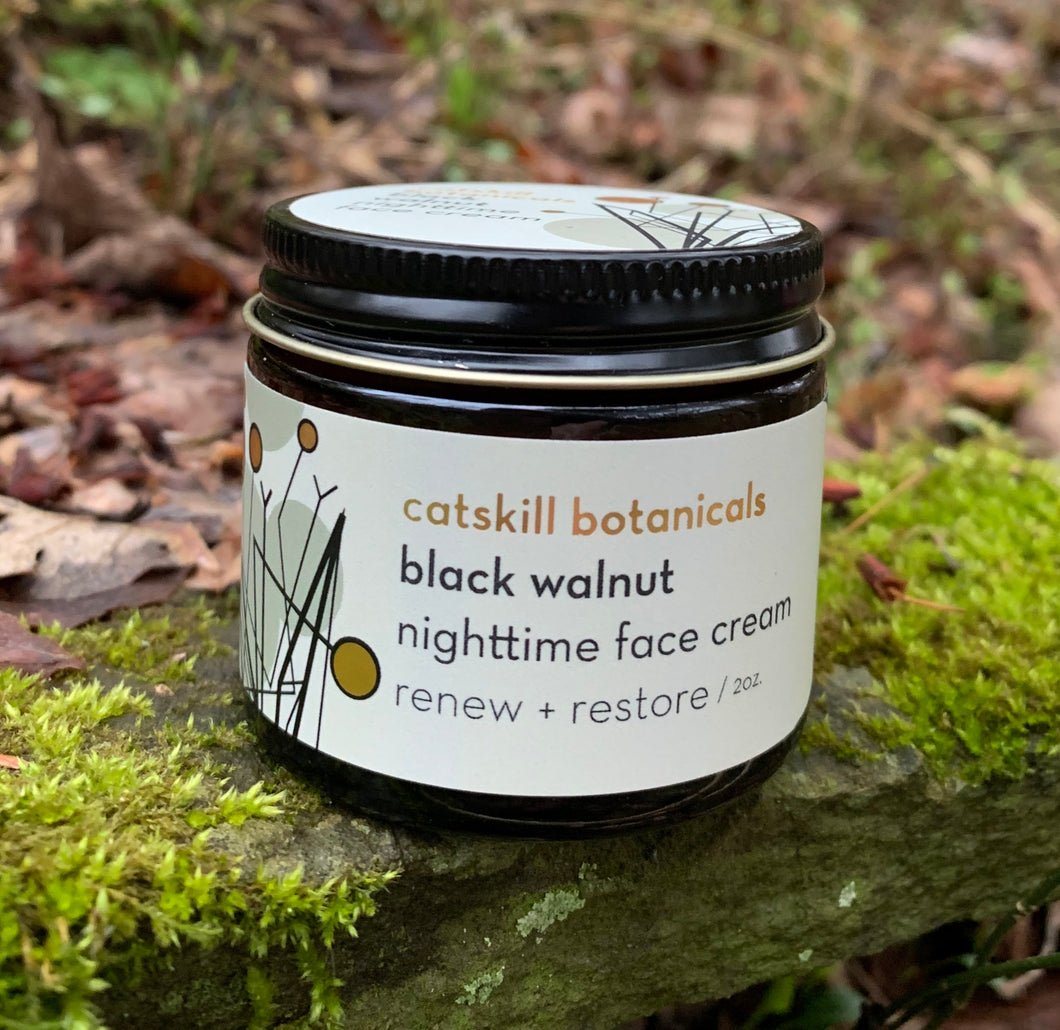 Black Walnut Nighttime Face Cream
Regular price $45.00 Sale
This item qualifies for free shipping. 
Black Walnut Nighttime Face Cream, 2 ounces
diminishes scars, age spots, fine lines, and wrinkles
relieves aches and pains
soothes bruises, bites, and rashes
supports healthy pigmentation
Ingredients: Black Walnut Hulls, Calendula Flowers, Sweet Almond Oil, Jojoba, Coconut Oil, Aloe Vera Gel, Cocoa Butter, Unrefined Shea Butter, Local Beeswax, Vitamin E, Celtic Sea Salt, Borax. Essential Oils of Tea Tree, Bergamot, Myrrh, Rosewood.
BERGAMOT MAY CAUSE SUN SENSITIVITY
How to use: Gently massage small amount into skin. Prior to general use, test for sensitivity.
Black walnut hulls are collected off of trees in the Catskill Mountains. The black walnut hulls are shaved off the body of the walnut, dried, and made into a strong tea that is added to the water portion of our black walnut face cream. Organic calendula flowers are collected, and made into a strong oil infusion that is sun infused, or simmered for days, to obtain optimal nutrients. The combination of these herbs, along with the essential oils of tea tree, bergamot, rosewood, and myrrh, helps balance pigment. by bringing lighter skin darker, and darker skin lighter. The small amount of cocoa butter used in this product protects the skin by acting as a shield against environmental toxins and fluctuating weather conditions, thus giving the skin a chance to rejuvenate without interference.  
A tiny bit is all that is needed. Avoid constant sun exposure and/or use at night because of the bergamot in this product. Using this product will make your skin feel softer and tighter than most creams.